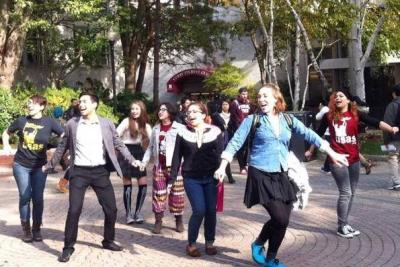 USAS "Thriller" Flash Mob - video
…in a word,
hectic
. Others would be
productive
,
exhilarating
, strenuous, downright
fabulous
(would that be two?). Making connections and gains, large and small. The large may count for more in some eyes, how many signatures, followers, shares, likes, RTs and so on, not to mention the status of who by/to/from. It's the social media version academic citation syndrome. There's a whole 'nother post there about that syndrome and what it says about being network clueless ~ but that and counting digital coup is another post. Today we celebrate them all.
The small, often personal and sometimes even private actions are as precious as the large. No one can know which will be looked back on as the tipping point 20 years on. Chaos theory and the butterfly. Cherish, revel in and celebrate all of them. Large or small, all take a bow...follow the lead of USAS flash mobs across the country and dance in the streets
#WeAreALLinThisTogethe
r: adjuncts, GTAs, students, families, tenured allies, campus workers, contract researchers, librarians—a hashtag, albeit one in need of a character diet.
But where to start the shout out?
Not all will fit here, not even a fraction. I've been collecting links, stories, images, etc on multiple sites/social media venues since before Campus Equity Week started and once underway, putting in the better part of every day since. The CEW site has been doing the same, as have organizing committee/group has been collecting and posts. You know who you are...take a bow, do a happy dance...and let us know so we can dance with you.
Santa Fe CC adjuncts host lone NM event
Here's just some of yesterday and as much of today as I can remember today excepting parts missed. Tomorrow is another day, the last one of
Campus Equity Week
but also the first of the rest of the journey. Send me what I missed. I don't anyone left, especially the less affiliated. The major higher ed unions and chapters can fend for themselves and CEW has them covered too. I'll post any copy ready list with links ~
no pdfs
~ any group or individual sends me. Pictures are especially welcome. In the interest of preserving my sanity, I'm not even attempting comprehensive coverage of campus events (but have been RT'g them and posting picture): there are so many, on so many campuses in so many states. There's a
Event section
on the CEW website: it's up to groups to submit their events. If you haven't, please do so.
USAS' "Hallo-Week of Action" and the "Thriller" Flash Mobs dancing at campuses across the country
SEIU Adjunct Action's "Adjunct Symposium" today in Boston, tomorrow LA...if only they would use the #CEW2013 hashtag...your mission possible is to follow #adjunctsymposium on Twitter and RT doing it for them
On the ground actions by the non social media inclined (to put it mildly) such as NFM board members Anne Wiegard and Betsy Smith gathering gathering petition signatures at breakneck pace
Roadrunner Virtual Meetup, followed by permanent Conversation Corner right here on the NFM blog
Brianne Bolin's " Chicago musical flash mob event tomorrow, with Rob Baum (aka Migrant Intellectual) setting up livestreaming
Alan Trevithick's fab video, only two thumbs up because I have no thumbs on my feet
Jack Longmate's essay in Labor Notes (I'm counting it as a #Blog4CEW)
Ana M Fores' radio interview on L.A.'s KPFK "Beneath the Surface"
Robert Craig Baum's productions on Soundcloud: Adjunct Verses, Adjunct Revolution & more ~ plus marshaling troll patrol swarms for commenting and finally, a new Migrant Intellectual post, cherry on the top of the banana split (way too complex and varied to be a mere sundae)
All manner of things made for CEW that are not blog posts (so where do I file them? Other? None of the above? They make up a considerable body, all but uncountable from avatars to videos and more. See also listing above. There is no designated category. Freestyle? Improv?
#CEW2013 pin board on Pinterest. Twitter is a good place to troll for CEW photos...shot live with mobile and tweeted...
Petitions, lots of them too
Videos, ditto
A CEW Storify I finally tracked down - finding more along the way to set aside for a Storify post (but probably not the redundancy of aStorify Storify)
#Blog4CEW, how much we ❤ #CEW2013 bloggers and an impressive array of series, not just the much spotlighted Academe blog series or even counting my own blogs
Discussion, links and comments shared on various Facebook cyber-watering holes such as Con Job (Stories of Adjunct and Contingent Faculty) group, Adjunct Justice and NFM pages - surely others too.
The day's latest news and media coverage on the Campus Equity Week page (which I must confess I have not had time to check). Setting a Google News Alert, email or widget does it too.
...and just follow the tweets by hashtag ~ #adjunct, #CEW2013 and others ~ or streams of your choice (a round-up of the best is yet another I probably won't get to
In short, a testament to the power of networks and individuals in them connecting, taking initiative, exercising imagination, and sharing
.
..and more to come..