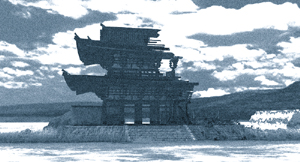 …a drama and a comedy...watch both or whichever you are in the mood for. Rashomon needs no introduction but I will anyway (below, reposted from Open Culture). I don't really need to tell you which is which, do I? Any subtext you care to extract from my choices is up to you.
If you need a dose of the serious and informative, try an annotated links double header:

much more than the immigration debate

and about Ferguson ~ both from

the B

ook Forum blog, Omnivore.
Recently added to our blogroll:
"Come on, Homer," Marge Simpson once said to her husband before one of the cartoon family's trips abroad, "Japan will be fun! You liked
Rashomon
." Homer's sullen reply: "That's not how I remember it."
There you have all you need to know about that film's permanent and immediate place in the zeitgeist. Akira Kurosawa's 1950 tale of crime, punishment, and the nature of memory has become a byword for the way that single events produce bewildering varieties of recollections and interpretations. We make this reference in the same offhand way when we make a reference to, say, Rosebud, the tortured magnate's childhood sled incinerated at the end of Citizen Kane. It comes in handy when we need to describe those seemingly vast revelations that actually reveal nothing. But just as far fewer people throw around the word "Rosebud" than have actually seen and appreciated Citizen Kane, far fewer people display familiarity with "Rashomon" than with Rashomon. Yet both pictures hold up immaculately today, and you can watch the latter free on Archive.org (or pick up a finer print on DVD/Blu-ray here). It's also added to our collection of 500 Free Movies Online.
In addition to signifying both a classic film and an inescapable element of the human experience (not to mention the Ryunosuke Akutagawa short story that provided the movie's basis), "Rashomon" also signifies a place. The Rashomon gate isn't just a film set; should you find yourself in Kyoto, you can visit it. I may well do that myself soon, since I'm coming to you for the next couple of weeks from western Japan. While here, I'll take the opportunity to showcase a few particularly intriguing pieces of Japanese film, television, art, and media on Open Culture. If you, like me, live under the spell of Japanophilia, Japanese film may well have first cast it upon you. After taking the Italian Critics Award and the Golden Lion at the 1951 Venice Film Festival, Rashomon cast it on a generation or two of westerners. While the cinema of Japan has much more to offer than Kurosawa, you could hardly find a place of higher craft or accessibility to begin exploring it.
Colin Marshall hosts and produces
Notebook on Cities and Culture
. Follow him on Twitter at @colinmarshall
...and for your reading pleasure,
Rashomon, and Other Stories
by Ryunosuke Akutagawa
His Girl Friday (1940), from the Internet Archive, is the comedy selection
Hilarious romantic comedy starring Cary Grant and Rosalind Russell. Russell is rough and tumble reporter looking to get out of the news racket by marrying and becoming a house wife after her divorce from newspaper publisher Grant. Just when she is about to leave town with her husband-to-be the still lovesick Grant drafts her to cover one final breaking news sensation.

Along with plenty of laughs and fast paced dialog this film provides a witty and cynical look at news business. There is a slight audio sync problem in the first couple minutes of the film. It is present on the source medium and is very brief.



This movie is part of the collection:

Comedy Films



Director:

Howard Hawks




Audio/Visual:

sound, black and white
Script: screenplay based on "The Front Page" 1939