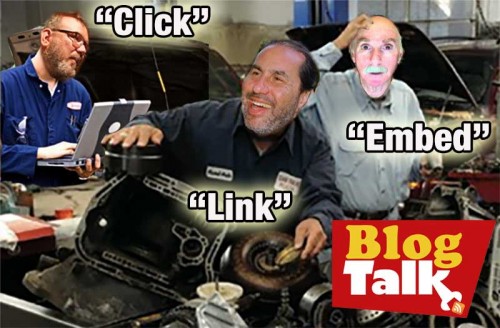 …
Click
,
Link
and
Embed
, better known as Jim "
EduPunk
" Groom, Alan "
CogDog
" Levine, and Howard "
Exploring mind amplifiers since 1964
" Rheingold.
So what is this about anyway? Sure, there a Sunday film (maybe two), but my main purpose is to entice sign up for fun, blogging, connecting courses and with other educators. The
Connected Course
starts September 15, but the
Pre-Course
(what the video is about) is now. Sign-up; register your blog (start one) and twitter handle; check out the blog flow on the main page -- visit/comment on a few; check out the look around
Connected Courses is a collaborative network of faculty in higher education developing online, open courses that embody the principles of

connected learning

and the values of the

open web

.
Our goal is to build an inclusive and expansive network of teachers, students, and educational offerings that makes high quality, meaningful, and socially connected learning available to everyone.
Should teaching/learning be this fun? Heck yeah. Yesterday, my blog brothers Jim "Click" Groom and Howard "Embed" Rheingold launched the first live session for Connected Courses and open connected course about teaching open connected courses (see recursion).
The first two week segment we, the Connected Brothers, are running is the "Pre-course" meant to onboard people, to have them set up their blog space and connect it to the course hub, but mainly to have them just start connecting.

And they have - the twitter channel is lively, and we have as of right now,

104 blogs connected in

.
Second feature:
Howard Rheingold's TED Talk on Collaboration
Howard Rheingold talks about the coming world of collaboration, participatory media and collective action