...
news & links about
#ContingentFaculty, #academiclabor & #organizing in #highered. To subscribe to regular Updates, email joeberry@igc.org. More about Joe Berry. Updates are also archived at chicagococal.org. Follow COCAL International on Facebook.
Getting organized...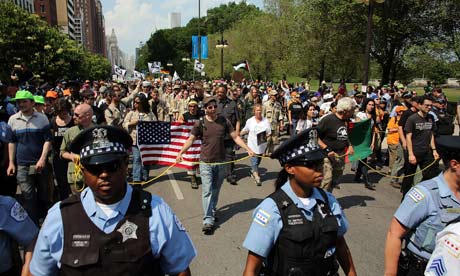 According to UK political activist Richard Seymour writing in The Guardian,

Chicago teachers
could strike a blow for organised labor globally. Although risky, a successful, a
fight to halt school budget cuts in Democratic heartland would be a huge boost for unions.
"
What was Behind the UESF Strike Vote
?
"
An informative
article
by Andy Libson
on recent strike vote and union election in the United Educators of SF (AFT/NEA).
[JB notes:
This is my old union and I was part of a similar caucus effort back in the the 1970s
.)
via
La Voz de los Trabajadores
.
Watch
The U.S. in 2012: What's Class Got to Do with It?
This valuable plenary
session on You-tube
from the
How Class Works
conference at SUNY Stonybrook last June features
a round table discussion with Bill Fletcher, Juan Gonzalez, Bob Herbert, Frances Fox Piven, and Michael Zweig...f
ull of lessons.
Other sessions and conference papers are on the website
Pittsburgh NTT and contingent conference,

Countering Contingency

, rescheduled for

April 5-7, 2013

.
Part-time union at Columbia College, Chicago wins NLRB decision on failure to bargain in good faith by administration, also here.
NEA Today on recent action as NEA Presses for Adjunct Faculty Rights
From Labor Notes, on organizing: aim the slingshot well
Pasadena City College and union at impasse: overloads and large class premiums are key issues
go global...
Report on massive student and faculty and staff and general labor movement demonstrations in Chile in support of ongoing strike
How Pearson Co.

influences

education policy

globally, not just here

(

yes, you have all received come-ons for their books and materials

)

but also

in the UK and other Anglophone countries
for profit watch...
For-profit Academy of Art University faces whistleblower suits in San Francisco from for former recruiters who claim US government was defrauded of millions
Fraud lawsuit against Virginia College (for-profit) for defrauding students
miscellaneous...
Note from July 17: Happy Woody Guthrie's 100th Birthday. We need his spirit and songs even more today.

see NPR on his legacy

and many other sites with commemorations. Just search "woody guthrie birthday"
An interesting

discussion

on the pension "crisis" at

Talking Union
Latest post by Debra Leigh Scott on the Homeless Adjunct: questions students and parents should be asking administrators and admissions officers
A

temp worker story

from another segment of the contingent workforce, Labor Ready temps,

Mother Jones.